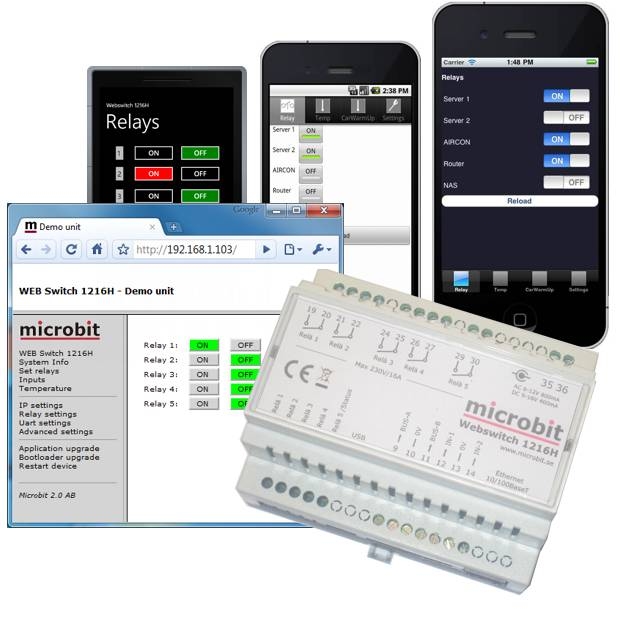 Webswitch 1216H is a remote controlled switch with 5 relay outputs (230V/16A) which can be controlled independently via the built in home page from any network connected device having a web browser(PC, Smart phone, etc). There are also Apps available for Android  and  Apple. The Webswitch is fully standalone and is connected directly to the local network.
The Webswitch is available in three editions, Home Extended and a Ham radio edition.
The Webswitch Home Extended edition has all the functionality of the Home Basic with the addition of the possibility to be equipped with a radio module enabling
control of remote switches
(Nexa) in the same way as the built in relays, as well as software functions for
automatically control of the relays
based on time, temperature or light and a software function called "
Car Warm Up
" that based on time and temperature turns on the electrical heating of a car's engine and/or coupé. The extended version also have
Monitoring
functions for sending email/SMS when for ex. the temperature changes as well as the possibility to
use other Webswitches' inputs and outputs
.
The Switch fits into a standard DIN-rail system (6M). There are lot of cheap DIN-boxes which can be used for outdoor installations.
A live demo Webswitch can be found HERE
Key features include:
Supports both 10 and 100 Mbits Ethernet networks.
Setup via USB or a phone App using a Windows PC and the Microbit Setup Manager software makes the initial setup of the network settings easy.
Supports up to 25 1-Wire bus devices (BUS-A, BUS-B), for ex. temperature sensors.
Built in DynDNS Client for easy host name based access from the Internet.
Can be equipped with radio transceiver hardware for receiving and transmitting Nexa compatible codes. Enables controlling remote switches using the so called Nexa protocol as well as receiving codes from Nexa transmitters. (Extended version only)
Additional software modules, for example "Auto Control Programs"(automatic control of relays and Nexa remote switches using a flexible combination of time/temperature/light/sun rise+set) and "Car Warm Up"(automatic control of one or two relays/Nexa remote switches in order to heat up the car's engine and/or coupé at a given departure time and outside temperature.) (Extended version only)
The Switch fits into a standard DIN-rail system (6M). There are lot of cheap DIN-boxes which can be used for outdoor installations.
The Webswitch's internal software(firmware) can easily be updated, either via the web interface or via USB using the Windows based Microbit Setup Manager software.
The settings can be both exported and imported.
Possible to control relays, reading inputs, temperatures and relay states using HTTP/REST commands. Find more information here
Can send emails or SMS when for ex. temperature goes below/above a programmable level.
Mobile Phone Apps for Android available for remote controlling the Webswitch.
Note that if you intend to connect high-voltage devices(for ex. 220-230 Volts) directly to the Webswitch, depending on your country's regulations and laws, you might have to consult a authorized person(electrician) for the installation.
Technical data:
Power
8-12V AC or 9-16V DC(polarity independent)
connected to screws or 2.1/5.5 mm DC-connector
Power consumption
max 800 mA AC with all relays active
max 400 mA DC with all relays active
Relays
230VAC/16A (5×1 pol)
connected via screw terminals
USB interface
USB 2.0 (USB-mini connector)
Cable included
LAN interface
10Base-T/100Base-T (Ethernet) RJ45
Indications LAN Interface
2 pc. LED in the RJ45 connector
showing LINK status (Yellow) and DATA Rx (Green)
Indications common
Relay 1-5 status and Power On
Dimensions (lxwxh)
105 x 86 x 49 mm 6 Modules DIN-rail
Temperature range
0-55°C(The device itself)
Inputs
2 x Digital Inputs
Software for setup
Microbit Setup Manager to set IP, netmask etc, and for firmware update